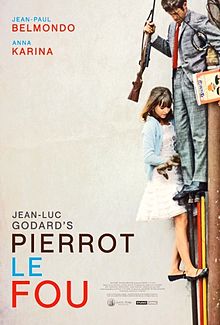 For our next Film Bytes column in issue 4.1 (2013), our editorial board has selected Jean-Luc Godard's Pierrot le fou (1965).
Film Bytes is a perfect opportunity to contribute to Film Matters in a meaningful yet casual way — particularly if you have been wanting to get published but don't have the time to write reviews or submit your longer essays.
So the first step is to see the film, if you haven't already.  It is available through Amazon instant video for $1.99:
Then craft a comment for consideration in issue 4.1.  Comments can be posted here on our website or on our Facebook page (https://www.facebook.com/filmmattersmagazine), or you can email them to us at:  futurefilmscholars AT gmail.com
We look forward to hearing your thoughts on this classic of the French New Wave!